All problems quickly solved
Are you already an Intovent customer and your ventilation system is not working properly? A malfunction will result in reduced or no ventilation. All the more reason to quickly report a malfunction to Intovent. If we have to visit you to fix a malfunction in your ventilation system, you can expect a rate of € 22,45 per quarter of an hour. The call-out charge is € 84,25. The mentioned amounts do not include material costs.
Our service technicians solve problems quickly and professionally. This is always a tailor-made job, so repair times can vary from as little as 15 minutes to several hours. The technician will estimate the time needed to complete the repair and discuss what needs to be done.
Is the unit under warranty? If so, we recommend you contact the installer or contractor first.
Is the unit older than 15 year? Have you noticed that your ventilation system is making more and more noise? Is your energy bill getting higher and higher? Then chances are your ventilation system is not working properly. Keep your indoor climate comfortable and opt for a timely replacement.
Please note: our services and materials are designed for standard homes (maximum number of valves is 12). Is the ceiling higher than 3 metres or are there any other peculiarities? Our technician may not be able to carry out the service or may find it difficult. In this case, please contact us first.
Has the unit not been serviced by us? Then it is not possible to use Intovent's troubleshooting assistance.
Ask for a technician
A technician manages everything on site
Need a helping hand yourself?
Provide the right resources
Camera inspection
In a mechanical ventilation system, polluted air is removed from the house through ducts. It is inevitable that the ducts get dirty as dust, dirt and micro-organisms adhere to the duct walls. Contamination is detrimental to the proper functioning of the ventilation system - and therefore to a healthy and comfortable indoor environment. Curious about the condition of your ducts? Get a camera inspection and find out exactly what is going on.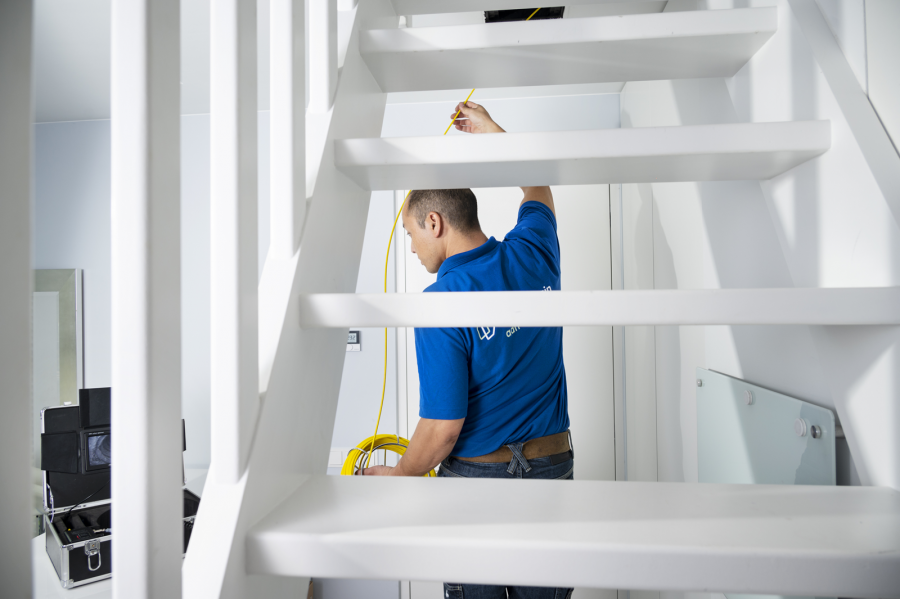 Flexibility and Transparency: our General Terms and Conditions
To ensure that we provide the best possible service, we have some general conditions. One of these conditions is that, based on our technician's on-site assessment, we may decide to carry out more or less work than previously agreed. We do this in order to carry out our work in a professional and efficient manner and to ensure that the appliance and the ventilation system in the home continue to function properly.
If we decide to carry out more work than previously agreed, we will always inform you in advance of the additional work and its cost. We will only carry out the additional work if the customer agrees.
If we decide to carry out less work than previously agreed, we will also inform you of this decision and the reasons for it.
If the work cannot be carried out because, for example, incorrect information has been provided or the wrong service has been purchased, it is possible that we will not be able to carry out the work within the specified time. If this is the case, we will have to reschedule and charge you for the call-out costs incurred in accordance with our webshop rates. If we are unable to carry out all or part of the work due to circumstances beyond Intovent's control, we will not refund any amount already paid.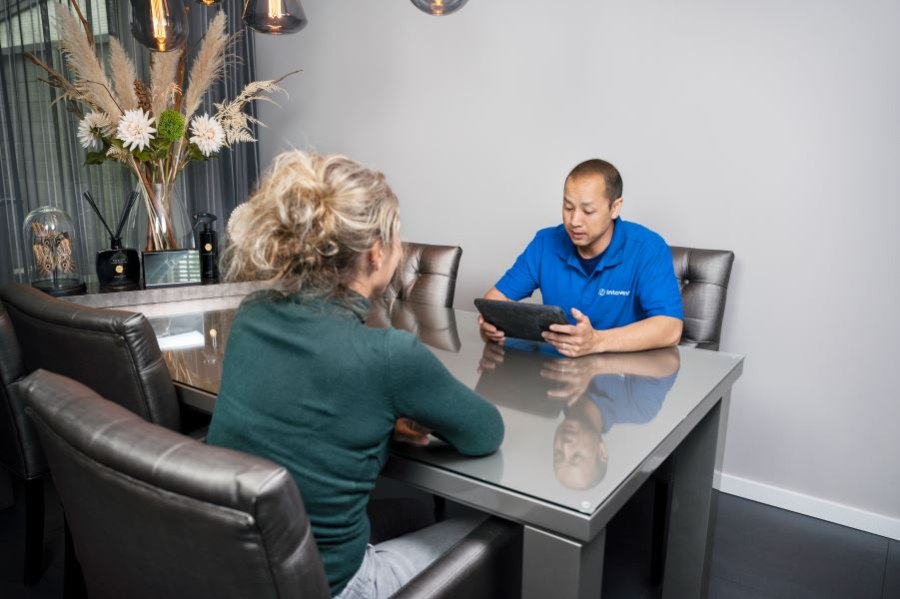 Getting started by yourself
View our products
Why Intovent?
Strong in service

Return free of charge

Not brand-dependent
Technician needed?
Our best people at your service