---
What is a façade grille?
Façade grilles are ventilation grilles for the external wall. Façade grilles are essential for proper ventilation as they are used for both the supply and exhaust of air. Façade grilles are also known as wall grilles or external air grilles.
What is a façade grille used for?
Fresh air is therefore the main function of a façade grilles. Façade grilles can be used for all types of ventilation, both mechanical and natural. A grill or louvre is also essential with a residential fan or MVHR system.
What kind of façade grilles are there?
If you are looking for a façade ventilation grille, take your time. The choice is vast, as you can see from this page. Ask yourself the following questions:
What diameter should the grille be? Intovent offers grilles with diameters ranging from 80 to 200 mm.
What shape do you need: are you looking for square or round grilles? Bull nose grilles are also available.
Which material do you prefer? Façade grilles are available in steel, aluminium and stainless steel.
Would you like to know more about façade grilles? Or have you already got your eye on a specific grille but want to make sure you are making the right choice? Contact us for professional advice.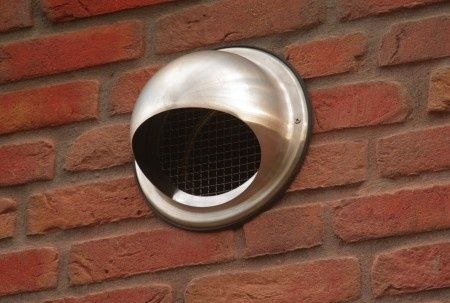 How to install a façade grille?
A façade grille is basically an external wall ventilation grille. The installation of a grille is therefore carried out on the outside wall. Intovent's grilles are suitable for installation in spiral ducts, which provide the connection to the ventilation system. It is important to keep the distance between the outside air and the ventilation system as short as possible. The greater the distance to be bridged, the greater the capacity required from the ventilation system. Bear this in mind when installing wall grilles.
Installing a façade grille: do it yourself or outsource it?
With the right materials and two right hands, installing a façade grille is not that complicated. Take your time, do not rush. As mentioned above, pay close attention to the correct position of the grille. This will greatly affect the effectiveness of the ventilation system. It is better to drill into the exterior wall once and get it right the first time. Want to be sure of a professional job? Then hire a professional installer.
Façade grilles, bull nose grilles, design air valves
As a specialist in ventilation, Intovent has everything you need for your ventilation system. In addition to façade grilles, you can also come to us for bull nose grilles and design air valves. In short, all the options for a functional solution that also matches the style and design of your home. If you have any questions about façade grilles or any other product in our range, please contact our customer service team.
Want to learn more?
At Intovent, we help you not only by providing quality ventilation products, but also by sharing our knowledge. That is why you will regularly find interesting articles on our blog. Want to know more about the importance of ventilation? Want to discover how versatile ventilation technology is? Or do you need tips on how to get the most out of your ventilation system? Read our blog for a fresh look at a healthy indoor environment.
Technician needed?
Our best people at your service
Why Intovent?
Strong in service

Return free of charge

Not brand-dependent
And our stock
Large stock
Fast delivery

Mirjam van Werde
Customer service representative