Why MVHR maintenance is a smart investment
An MVHR ventilation system keeps the indoor climate healthy. Fresh air is supplied, while moisture and dirt are removed. Want to make the most of it? Then opt for regular ventilation maintenance by a professional. What is a heat recovery system? And how does it work?
Benefits of ventilation system maintenance
Regular maintenance and cleaning is good for the life of your MVHR-unit. By removing dust, mould and debries, air quality is improved and energy bills are reduced. It is good to know that maintenance is more than just cleaning the unit. It is also important to check all the mechanical components of the ventilation system.
How often should an MVHR-unit be cleaned?
Twice a year: replace filters. Easy to do yourself
Annually: Basic Maintenance
Every two years: Extended Maintenance
After 7 years: MVHR-ventilation duct cleaning
MVHR-ventilation maintenance cost
At Intovent, we like to communicate clearly. Below is an overview of exactly what we have to offer. You can choose either a one-off payment or a subscription. A subscription has the advantage of low fixed costs and still ensures an optimally functioning ventilation system, while you benefit from priority when scheduling. Read more in our blog.
Prices include VAT and call-out charges.
Good to know
When you place an order, we will contact you within two working days. Based on your postcode, we will schedule a technician to carry out an expert ventilation service. The duration of the work depends on the type of service required. It is important to change the filters on your MVHR unit at least once every six months. If you order filters with a maintenance, they will be sent in advance.
Our services are suitable for standard homes (max. 12 valves). Do you have a ceiling higher than 3 metres, or any other special features? Then there is a chance that the ventilation maintenance cannot be carried out or is difficult. In this case, please contact us.
Please note: This service is not available for decentralised MVHR-units.
Need a helping hand yourself?
Provide the right resources
What is dry cleaning?
Service technicians have professional equipment for dry cleaning. The inside of the ducts are cleaned with a powerful rotating brush. Loose dirt is vacuumed up with a vacuum cleaner, collected and disposed of. In addition, the supply ducts are inspected and cleaned if necessary. The MVHR unit is also thoroughly cleaned. The result is clean air in the home and an MVHR system that is quiet and energy efficient.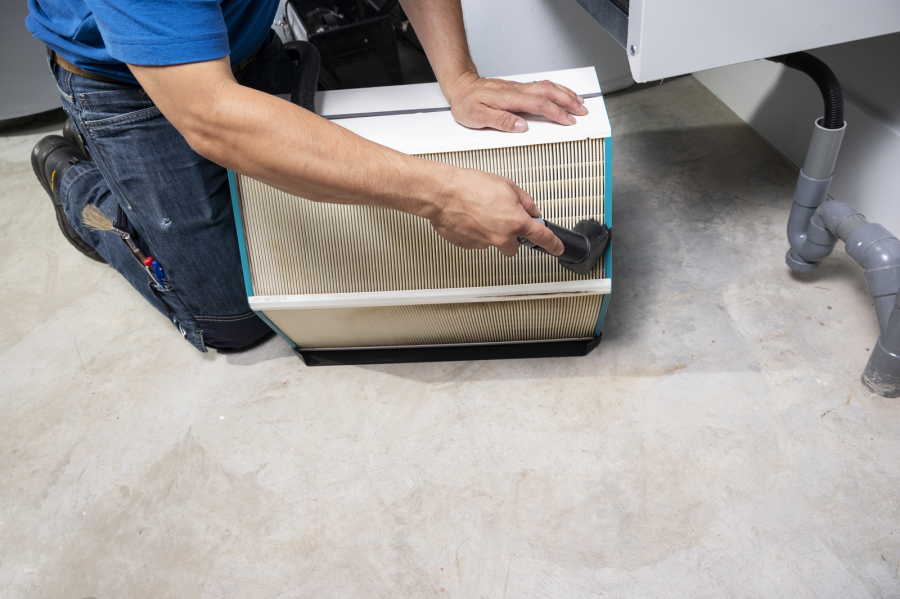 Efficiency of dry-cleaning MVHR
Did you know that a dirty MVHR system will perform significantly worse? Depending on age and brand, this can be as much as 30% less effective in just 5 years! Regular maintenance is not an unnecessary luxury. With a service subscription, maintenance becomes our concern. Every 2 years a technician will visit your MVHR unit for maintenance and cleaning. We also recommend a full cleaning, including the air ducts, every 4 years. This will ensure the air quality in your home and avoid unnecessary energy costs.
Replacing an MVHR
Ventilation maintenance optimises the life of your system. However, the fact is that every ventilation system needs to be replaced at some point. Do you have an MVHR system that is 15 years old or older? Have you noticed that air quality is deteriorating, energy consumption is increasing and/or the system is making more noise? Then it's time to replace your air handling system. Want to know more? Then read more on 'Replacing a ventilation system'.
Customised maintenance MVHR ventilation
As a ventilation specialist, Intovent is an expert in all fields. For example, do you have a question about the maintenance of the Itho Daalderop MVHR unit? Would you like to know what the cost are of cleaning an MVHR? No matter what your question is, we are here to think with you. Contact us for personal advice from a true ventilation specialist.
Getting started by yourself
View our products
Why Intovent?
Strong in service

Return free of charge

Not brand-dependent
Technician needed?
Our best people at your service