When is your ventilation system due for replacement?
Have you noticed that your ventilation system is making more and more noise? Do headaches and sore throats have become commonplace? Is your energy bill getting higher and higher? Then chances are your ventilation system is not working properly. And yes, it is getting worse. Keep your indoor climate comfortable and opt for a timely replacement.
Are you not experiencing these problems, but is your ventilation system older than 15 years? Even then, a replacement may be a good idea, both for your health and your energy bill.
Why replace your ventilation system?
Technology keeps evolving and so do ventilation systems. Modern ventilation systems are quiet and energy-efficient. But the biggest gain, of course, is in air quality. Pollution disappears and makes way for a fresh breeze. That makes the whole house feel better! Feel good, experience comfort and live healthily: it all starts with clean air.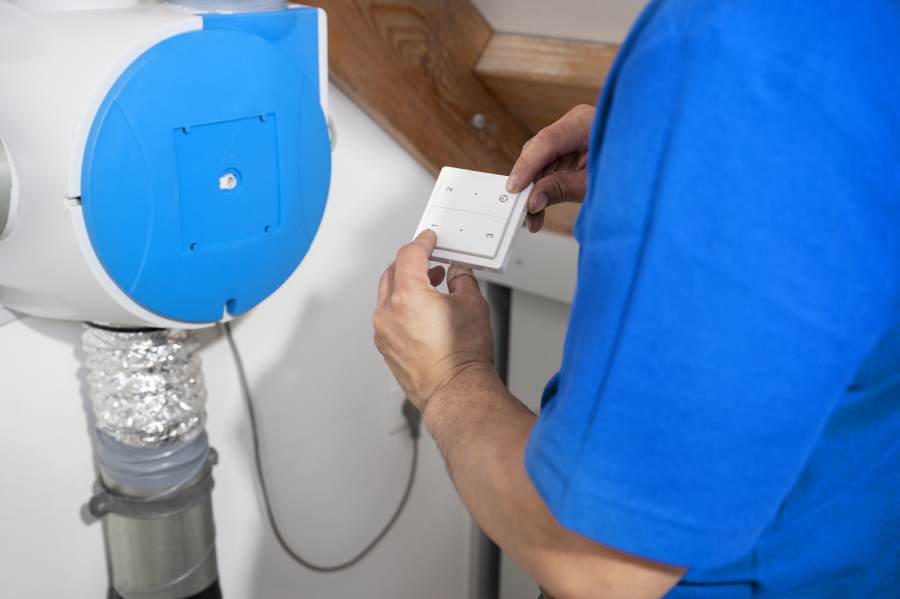 Frequently asked questions
I forgot my password

Have you forgotten your password? No problem! Click on the 'Login' button at the top right of the page. You will see a 'Forgot password?' link below the input fields. Click on this, enter your email address and click on 'Reset my password'. Within a few minutes you will receive an email allowing you to choose a new password.

Create password
To guarantee the security of your account, here are some tips to create a strong password:

Use 8 or more characters.
Use uppercase and lowercase letters, numbers and special characters.
Always use a unique password for each website or account.
Avoid passwords that are easy to guess, such as your name or date of birth.
Change your password regularly.

What is important in ventilation?

Use the highest ventilation setting when cooking, showering or receiving visitors.
Never turn the ventilation off completely, except in an emergency.
Leave a gap of at least 1.5 cm under internal doors to allow for air circulation and ventilation. Take this into account when laying floor coverings.
Have the ventilation box or heat exchanger and air ducts cleaned regularly.
Keep internal door and/or window vents open and clean.

Do you like to ventilate your home? Then keep the following points in mind:

Open windows and doors against each other for at least 15 minutes.
Is the heating on? Turn it down as low as possible or off completely (if possible) while airing.
With any ventilation system, it is not recommended to leave windows open for long periods in winter. The house will cools down unnecessarily and energy will be wasted.

Tip: also ventilate during or immediately after special activities, such as painting or a party. This is the quickest way to remove humidity, dust and harmful substances such as solvents.

Product with status delivery time upon request. What does this actually indicate?

The item you are looking for has the status "Delivery time upon request". But what does that mean?

It is not always possible for us to provide an exact delivery time. The market is currently experiencing a shortage of materials and this has resulted in longer than usual production and delivery times from our suppliers. This is a common challenge faced by many companies in today's market and it has affected the availability of certain products and parts that we need to fulfil orders. We apologise for any inconvenience this may cause.

In addition, while most of the products in our range are available from stock, we also offer the possibility of ordering products that are not in our range. For these products we can only give a delivery lead time after request. In such cases you can contact our customer service for more information.

What can I do myself to maintain my ventilation system?

You can easily clean the valves yourself by soaking them in soapy water and brushing them. There is also a foam ring behind the valve. You can replace this over time.

Note: It is important to remember which position the valves are in when they are removed. This will determine how much air can flow through the valve. Make sure that the opening of the valve is the same when you replace it. If necessary, you can use a marker to make some marks on the inside (depending on the type of valve).

When should I have my ventilation system replaced?

A mechanical ventilation system has a service life of approximately 15 years. We recommend that it is replaced at the end of this period to ensure a properly functioning ventilation system. Want to get the most out of your ventilation system? Then make sure it is serviced on time. Have you noticed that the system is making more noise? Or are you experiencing condensation? Then it is wise to have your ventilation system checked by a professional.

Is it possible to have a mechanical ventilation system replaced by an MVHR system?

In a mechanical ventilation system, only polluted air is mechanically extracted. With an MVHR system, air is both exhausted and supplied. Additional air ducts should be provided for this supply. These must be installed in the house. Are you considering replacing a mechanical ventilation system with a heat exchanger? If so, get in touch with one of our experts.

Why is it necessary to change the air filters, and how often should this be done?

Bacteria and mould gradually build up in the filters. This causes a deterioration in the air exchange capacity. In addition, the ventilation system becomes noisier if the filters are not changed regularly.

On average, it is recommended to change the air filters at least twice a year. If your region or neighbourhood has poor air quality, you may want to change the filters more frequently, for example if you live in an urban area with a lot of traffic. If you suffer from allergies or asthma, you may need to change the filters after only 2 months.

Can I vacuum or wash out the filters of my MVHR system myself?

This is not recommended. The fibres may be damaged or lost, reducing the performance of the MVHR system. However, it may be a temporary solution for dirty filters. If you wish to wash air filters, do not use detergents! Our advice is and remains to replace the filters when they are dirty. This will keep the MVHR system working optimally.
Getting started by yourself
View our products
Why Intovent?
Strong in service

Return free of charge

Not brand-dependent
Technician needed?
Our best people at your service