Optimisation starts with measurement
Always healthy air in your home, efficient energy consumption and less risk of mould and dampness: ventilation contributes to greater living comfort. That is why it is not only important to choose the right ventilation solution, but also to have it measured and adjusted by a professional. Our ventilation specialists know how to get the best out of a system, and that pays off in terms of both comfort and cost. When replacing the valves, it is advisable to have the ventilation system measured and adjusted again by a specialist. If the valves are incorrectly adjusted, this will have a direct effect on the operation of the ventilation system. It is also important to have your ventilation system readjusted if there has been a renovation that has changed the size of the room.
When we come to measure and adjust your ventilation system, our technician will be here for about half an hour to an hour and a half. This depends on the type of residential fan you have. Once you have placed your order, we will contact you within two working days to arrange an appointment. Depending on your postcode area, our technician will be scheduled. When our technician has adjusted the system, the house will be tidied up so that you can enjoy a pleasant indoor climate straight away.
Please note: our services and materials are designed for standard homes (maximum number of valves is 12). Is the ceiling higher than 3 metres or are there any other peculiarities? Our technician may not be able to carry out the service or may find it difficult. In this case, please contact us first.
Prices include VAT and call-out charges.
Need a helping hand yourself?
Provide the right resources
What is measuring and calibrating a ventilation system?
Ventilation is about refreshing the air that flows through a home. Building regulations specify the minimum amount of air that should flow through a room. This is known as the flow rate. The standards are different for each type of room. For example, the legal flow rate of a kitchen is higher than that of a bathroom. Calibrating involves adjusting the air valves and the fan, and measurement is necessary to ensure that the standards are met in each room.
Intovent's way of working
Measuring and adjusting a ventilation system requires precision. The first step is to close windows and internal doors. Next, a meter is placed near the supply and return grilles to accurately measure the air flow. The desired flow rate is set by adjusting the fan speed and opening or closing the valves.
Please note: Do not turn the valves yourself, as this could throw the system out of balance. This could cause health hazards and/or unnecessary energy loss. Instead, call in a professional. Our technicians are happy to ensure that the ventilation system works optimally and meets all standards.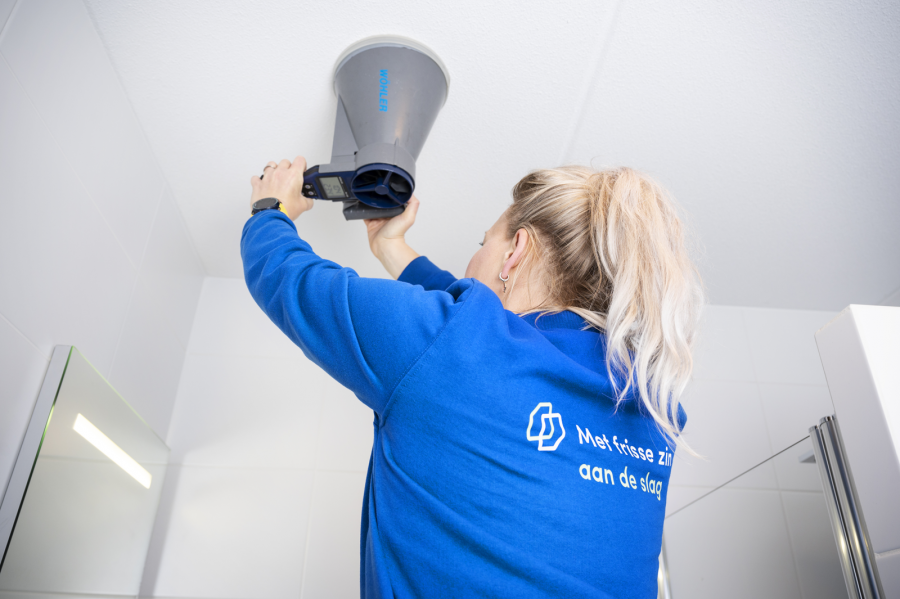 Flexibility and Transparency: our General Terms and Conditions
To ensure that we provide the best possible service, we have some general conditions. One of these conditions is that, based on our technician's on-site assessment, we may decide to carry out more or less work than previously agreed. We do this in order to carry out our work in a professional and efficient manner and to ensure that the appliance and the ventilation system in the home continue to function properly.
If we decide to carry out more work than previously agreed, we will always inform you in advance of the additional work and its cost. We will only carry out the additional work if the customer agrees.
If we decide to carry out less work than previously agreed, we will also inform you of this decision and the reasons for it.
If the work cannot be carried out because, for example, incorrect information has been provided or the wrong service has been purchased, it is possible that we will not be able to carry out the work within the specified time. If this is the case, we will have to reschedule and charge you for the call-out costs incurred in accordance with our webshop rates. If we are unable to carry out all or part of the work due to circumstances beyond Intovent's control, we will not refund any amount already paid.
Getting started by yourself
View our products
Why Intovent?
Strong in service

Return free of charge

Not brand-dependent
Technician needed?
Our best people at your service