Who are we?
Ventilation is more than just changing the air. Ventilation is a profession that requires customisation in every situation. For that you need specialists. Professionals who have service in their DNA, simply because they enjoy making people happy. Because that is what we do every day with our ventilation solutions. Welcome to Intovent.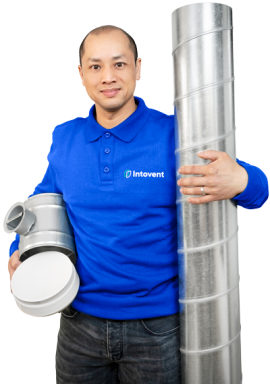 Mission statement
"Air is invisible but crucial to the way people function. Good air quality and a comfortable indoor climate does not just happen.

Everyone deserves a place where the air is fresh and healthy. Intovent works to provides you of fresh air in every place in every room. So that people feel pleasantly comfortable and can get the best out of themselves."
90%
90% of your life is spent indoors
20.000
You breathe 20.000 times a day
1 ⁄ 10
There is mould in 1 out of 10 homes and many houses have more fine dust inside than outside
5x
Indoor air is 5x more polluted than outdoor air
Our drivers
From cooking to lounging, from working from home to dining with friends and family. Your home is the stage for so much of your life. But a house only feels like home if you can live comfortably in a healthy indoor environment. Intovent is happy to contribute to this. Because everyone deserves a healthy home environment. Because we never compromise on comfort. And because we believe in the power of sustainable solutions.
Progressive in ventilation
Like air, ventilation is always on the move. Intovent embraces innovation because sustainable thinking and action is in our DNA. This ensures that our customers are assured of the latest knowledge and the most advanced techniques with the highest efficiency.
This is how Intovent makes a difference
There can be no quality without service. That's why Intovent is brand-independent, because only then can we truly think from the customer's perspective. With our expertise, we will work together to find customised ventilation solutions. And our service technicians will take care of the installation. In short, we are happy to be involved, from advice to maintenance and replacement, because quality thrives on continuity.