Cleaning MVHR unit with bacteria
An MVHR ventilation system keeps the indoor climate healthy. Fresh air is supplied, while moisture and dirt are removed. Want to make the most of it? Then opt for regular ventilation maintenance by a professional. What is a heat recovery system? And how does it work?
Benefits of ventilation system maintenance
Super-bacteria are a growing public health problem. They are resistant to antibiotics and disinfectants. What's more, they return in greater numbers after cleaning with chemicals. With probiotics, however, they can be effectively combated. In this way, they make an important contribution to the maintenance of MVHR units and help to maintain a healthy indoor environment. But maintenance is more than just cleaning the unit. It is also important to check all the mechanical components of the ventilation system.
Not sure if you have an MVHR unit? Read our blog for more information: Choosing the right maintenance? Here's how to do it!
How often should an MVHR-unit be cleaned?
Twice a year: replace filters. Easy to do yourself. Use a refreshing spray to protect the MVHR filters against bacteria
Annually: Basic Maintenance
Every two years: Extended Maintenance
After 7 years: MVHR-ventilation duct cleaning
MVHR- ventilation maintenance cost
At Intovent, we like to communicate clearly. Below is an overview of exactly what we have to offer. You can choose either a one-off payment or a subscription. A subscription has the advantage of low fixed costs and still ensures an optimally functioning ventilation system, while you benefit from priority when scheduling. Read more in our blog.
Prices include VAT and call-out charges.
Good to know
When you place an order, we will contact you within two working days. Based on your postcode, we will schedule a technician to carry out an expert ventilation service. The duration of the work depends on the type of service required. It is important to change the filters on your MVHR unit at least once every six months. If you order filters with a maintenance, they will be sent in advance.
Our service is suitable for normal homes (max. 12 valves). Do you have a ceiling higher than 3 metres, or any other special features? Then there is a chance that the ventilation maintenance cannot be carried out or is difficult. In this case, please contact us.
Please note: This service is not available for decentralised MVHR-units.
Need a helping hand yourself?
Provide the right resources
What are probiotic cleansers?
In soil, water, air and the human body: microorganisms are everywhere. There are billions of them, and they have only one goal: to survive. Fortunately, most of them are good for us. For example, they provide digestion, compost or food such as wine and cheese. A small group of microorganisms are harmful to humans, animals and the environment because they cause disease and spoil food. These pathogens are usually controlled with chemical detergents, but superbugs are becoming increasingly resistant to them. Fortunately, there is an alternative: probiotics. Probiotic cleaning products have been formulated with bacteria that naturally fight pathogens. A natural solution to a natural problem.
Good for people, animals and the environment
Probiotics are extremely effective in neutralising superbugs. Probiotic cleaners are therefore very suitable for cleaning MVHR units. Odour molecules are absorbed, preventing odours. Probiotic cleaners are also safer to use than chemical cleaners. They are also useful after use, as they help to purify waste water. In short, a super result against super bacteria.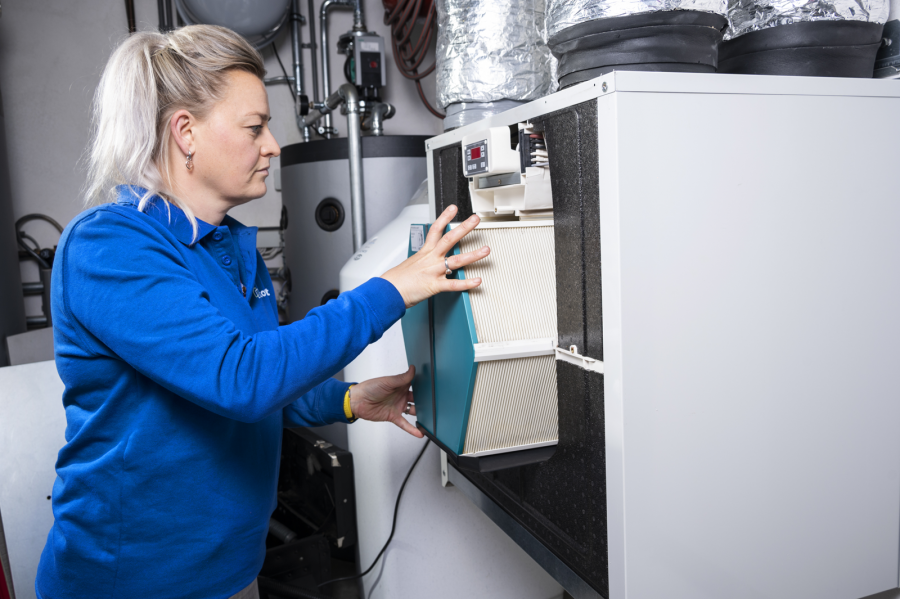 Replacing an MVHR
Ventilation maintenance optimises the life of your system. However, the fact is that every ventilation system needs to be replaced at some point. Do you have an MVHR system that is 15 years old or older? Have you noticed that air quality is deteriorating, energy consumption is increasing and/or the system is making more noise? Then it's time to replace your air handling system. Want to know more? Then read more on 'Replacing a ventilation system'.
Customised maintenance MVHR ventilation
As a ventilation specialist, Intovent is an expert in all fields. For example, do you have a question about the maintenance of the Itho Daalderop MVHR unit? Would you like to know what the cost are of cleaning an MVHR? No matter what your question is, we are here to think with you. Contact us for personal advice from a true ventilation specialist.
Getting started by yourself
View our products
Why Intovent?
Strong in service

Return free of charge

Not brand-dependent
Technician needed?
Our best people at your service